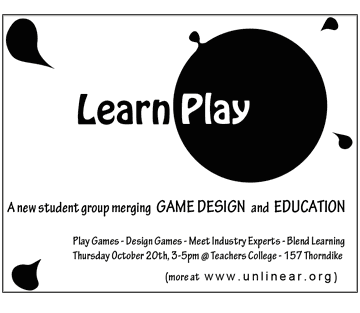 Who is LearnPlay?
LearnPlay is a student group exploring the intersection of games and education through hands-on experiences. We started here at Teachers College, Columbia University to connect our students with educators, game designers, and developers throughout the New York City area.

Contact or join us here (look for the "Apply for group membership" on the right).

"Hands-on Experiences"? What kind?
LearnPlay has offered a variety of workshops, demonstrations, and social nights in the past:…
…playing the best and worst of educational games
…being guided through the design of your own games
…As well as discussions and guest speakers

What has been done in the past?

This past few years LearnPlay has featured events small and large, including a Creative Game Design Competition revolving around the theme of conflict resolution, as well as Ed Tech Interactive, a showcase of student designed games, alongside games for learning and socio-political change.